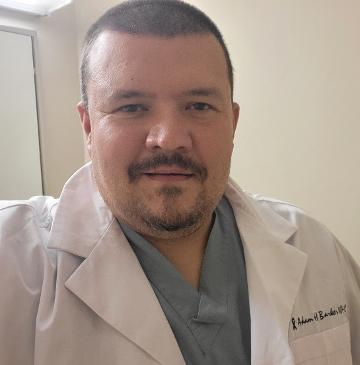 Adam started his career in public service early by volunteering for the Alarka Fire Department as a junior firefighter. With an eagerness to learn, he was certified as a medical first responder in 2001 at the age of 18. Having a firm platform in basic medical care he returned to Southwestern Community College to obtain his EMT-Paramedic in 2003. His newfound skills and knowledge lead him to serve the residents of western NC working for multiple EMS services in the surrounding area. A yearning for more convinced him to return to SCC, earning an Associate in Arts magna cum laude and ADN and a license as a registered nurse in 2017. While working full-time in the emergency department at Swain Community Hospital and Harris Regional Hospital, he went to WCU to obtain his MSN and certification as a Family Nurse Practitioner in 2022.
He enjoys spending time outdoors, drag racing, and spending time with his daughter.
Adam is our urgent care provider and will soon be offering medical card certifications for commercial motor vehicle operations.